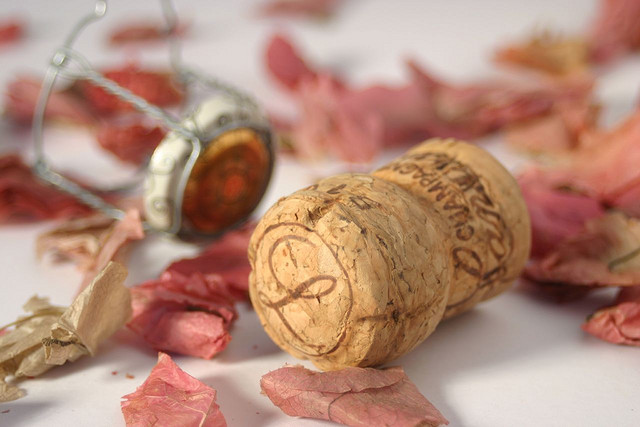 Another year, another New Year's Eve. Drink some champagne, sing a few bars of "Auld Lang Syne," make a resolution, and you're done. Simple.
And yet, many of us are confused about whether to love or hate this holiday.
Here's why.
There's Nothing to do on New Year's Day
It's the only day of the year where it's acceptable, even encouraged, to sit in front of the TV all day watching a House Hunters marathon while eating stale almond cookies dipped in eggnog (not that I do that).
And yet . . . Because of our New Year's Day sloth, our kids have been watching TV for so long their eyes have crossed. It's difficult to swallow hard cookies when you're choking on parental guilt, but that's what the eggnog is for.
Champagne
Light and sweet, those cool bubbles slip down your throat with the most delightful tickle, glass after sparkling glass.
And yet  . . . Worst. Hangover. Ever.
Drunk People
Ah, the bonhomie of the drunk New Year's Eve reveler. Drunk people are friendly, and it's one of the only days in the year where you can bear hug a complete stranger without being arrested.
And yet . . . at the end of the night, some of those friendly drunks get behind the wheels of their cars and drive home. And get arrested.
Packing up Holiday Decorations
Nothing says "clean" like the post-holiday decoration pack up. There's something deeply satisfying about vacuuming up every stray pine needle, not to mention those dust bunnies, squashed pieces of popcorn and broken rubber bands from every other day of the year.
And yet . . . Now you have to dismantle the "12 Days of Christmas" light display on your roof, and 30 feet is a long, long way to fall.
Fireworks
What better way to welcome the New Year than with sparkling, colorful bursts of light in the dark sky?
And yet . . . I promised my dog only one heart attack a year, and it's currently reserved for the 4th of July.
New Year's Day TV
18 consecutive episodes of Law and Order SUV? Bring. It. On.
And yet . . . Infomercials, all of them for weight loss programs. I hear you, Jenny Craig, but can't it wait until January 2? Now, where did I put that cookie?
No Cards or Gifts Required
Finally, a holiday where you don't have to buy anything, wrap anything, send anything or do anything. You can even skip New Year's Eve if you want, and get a head start on your TV, eggnog and cookie fest.
And yet . . . Only the most confident among us take advantage of this loophole. The rest of us fall prey to a phenomenon known as Fear of Being a Loser. So, grab that champagne, force your feet into those heels that make your toes bleed and get out there, damn it.
The New Year's Eve Hug
There's one for everyone. The New Year's Eve hug does not discriminate against children, the elderly or those who lack a significant other. It's a democratic, equal opportunity hug.
And yet . . . It's followed by the New Year's Eve kiss, the part of the evening where the chasm between hype and reality is the most pronounced. Last year I managed to get about half a lip on my husband before I had to dive for my son before he spilled sparkling cider all over our host's suede sofa.
Auld Lang Syne
Holidays are all about tradition, and this is one of the classics. There's a reason why we all know the words to this song.
And yet . . . It's the most annoying song in the world. The words don't make sense. What is "auld lang syne," anyway? No one knows, but rest assured that some drunken sage will attempt to explain it to you before the evening's out.
Resolutions
There's something reassuring about distilling an entire year's worth of goals into one simple, glib statement, like "Achieve Balance," or "Become a Better Person."
And yet . . . the very glib simplicity of the New Year's resolution is a mockery, because as simple as they sound, resolutions are destined to fail. We all know this, yet we continue to make them every year. The best we can hope for is that we don't get so drunk we make them publicly, and then have to explain at next year's New Year's Eve party why we're still unbalanced and a terrible person.
So there you have it. The fireworks and the champagne, the hug and the kiss, and the drunk and the fattening, the New Year's holiday is a confusing mix of them all, a quivering miasma of the good mixed with the bad.
Pretty much like every other day of the year.