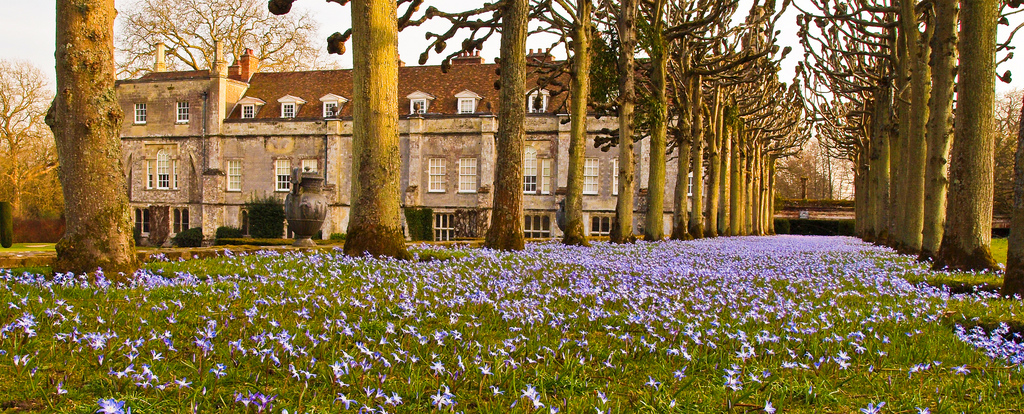 Rolling greens lawns, formal gardens and sultry conservatories—is it any wonder so many Regency romance novelists choose the English country house as the backdrop for their love story? There are few settings more romantic, and, given the strict rules of propriety between gentlemen and ladies in Regency England, even fewer where a hero and heroine can pursue their lusts and loves with such freedom.
It's tempting to believe, given the number of romances played out against their lush backdrops, that every gentleman in Regency England owned a grand country estate. According to Roy & Leslie Adkins, authors of Jane Austen's England, however, the 1801 census numbers show that of the 32 million acres of land in England, 80-90% was owned by the aristocracy and landed gentry[1]
Something in the Heir
People did not buy land in England in the 1800s – they inherited it. Land equaled power in 19th century England, and the aristocracy kept that power by keeping the land in the family via primogeniture and entail. Only eldest sons could inherit, and younger children of the nobility tended to marry landed gentry and thereby ensure that the landed classes remained just that—in possession of the land.
Country estates passed through generations often as an entail, meaning the eldest son inherited the land from his father and assumed responsibility for and stewardship of that land until his death, whereupon his eldest son would inherit. Heirs could not split up an entailed estate or sell any portion of it, no doubt to the dismay of more than one debt-ridden aristocratic rake.
Female children did not traditionally inherit the ancestral pile, of course—otherwise a husband could lay claim to the land once she married. If there were no males heirs, the land would pass laterally through the family to the closest male relation. Much to Mrs. Bennett's distress in Pride and Prejudice, Longbourne would fall to the odious Mr. Collins once poor Mr. Bennett turned up his toes.
Interestingly, entails could not tie up property perpetually – English law specified that land could only be entailed to the point where the grandson of the man making the entail turned 21. Families handled this by coercing or otherwise requiring the grandson in question to sign a deed of settlement tying up the land for further generations. The rakish grandson who's just inherited the right to sell the family estate could add an intriguing plot twist to a historical romance!
£10,000 a Year and Life is Grand
For aristocrats with luxurious country estates, life was grand, indeed. A large ancestral seat might have thousands of acres with formal gardens, rivers and lakes for private fishing excursions, hothouses, orchards, woodlands, kitchen gardens, expansive green lawns, farmland, and, of course, stables fully stocked with prime horseflesh.[2]
All this luxury came at a high price. In Pride and Prejudice, Mrs. Bennett falls into ecstatic raptures over Mr. Darcy's £10,000 a year, and well she might. A gentleman in possession of at least £5,000 a year could expect to live a reasonably grand aristocratic lifestyle at a time when £300 per annum afforded a moderately genteel existence.[3] And, of course, a gentleman in possession of such a fortune, and a country seat, must be in want of a wife.
Sport, Spirits and Scavenger Hunts: The Regency House Party
The fashionable world spent the season in London, but no sooner was Parliament suspended than the ton fled the squalid city and embarked on a round of country house visits. It wasn't unusual for a fashionable aristocratic family to visit four or five separate country houses during the summer and continue on to another round of house parties for the fall hunting season. Travel was dirty and onerous, so house parties often went on for weeks.
Guests were expected to charm, amuse and entertain the party with their cleverness and sophistication, but very little else was required of house party guests, who were free for the most part to amuse themselves. Gentlemen might disappear for the entire afternoon to hunt, fish or shoot on the estate's extensive grounds. For the more citified gentleman there might be lawn games like tennis, archery or cricket. Ladies generally spent the day writing letters, browsing in the library, strolling the gardens, walking, or on a horse or carriage excursion to a neighborhood site of interest.
The gentlemen would return later in the afternoon and there might be a drive or a walk before the guests retired to their rooms to dress for dinner, which was served in the evening. Guests dressed in formal attire then met in the drawing-room before parading into dinner according to rank. Dinner was the principal event of the day. It lasted for hours and often included ten or more courses.
After dinner ladies and gentlemen would separate again, then come together for coffee and tea in the drawing room. Guests might while away the evening hours with cards, music, chess or billiards. Younger guests might play at charades, put on amateur theatricals or chase each other around the estate on a treasure or scavenger hunt.
Gossip, Intrigue and Politics
Bedrooms for all the guests, accommodations for their servants, additional servants and provisions—for a family who entertained often and lavishly the cost could exceed £2,000 per annum,[4] to say nothing of the tremendous effort required to keep 20-30 pampered aristocrats entertained for weeks on end.
Hosts paid the high price, and gladly, as the advantages that could result from a successful house party often greatly exceeded the expense. Political maneuvering and favoritism, advantageous marriages, social promotion, illicit affairs, gossip and intrigues—all could and did take place at country house parties. Grand-scale country house entertaining was part of the social, cultural and economic fabric of Regency England.
A Love Match
Whether it's a stolen kiss in the formal rose gardens, a desperate embrace on a solitary woodland path, or a passionate afternoon in the stable hay loft, the affair between historical romance novelists and the English country estate is an inevitable one, written in the stars, fated to be—a love match.
Historical romances with memorable house party scenes:
Like No Other Lover – Julie Anne Long
Cynthia Brightly, the heroine, nearly kills a man during an ill-fated game of archery.
What I did for a Duke – Julie Anne Long
Watch for the scene where the young guests play a telling game of blind man's buff.
It Happened One Autumn – Lisa Kleypas
The unconventional Lillian Bowman (an American – gasp!) seduces the stuffy Lord Marcus Westcliff at a month-long house party at his country estate.
I hope you will all enjoy my upcoming Regency historical, set at a house party at the Earl of Carlisle's country estate in Kent. A Wicked Way to Win an Earl comes out in October 2015 from Berkley!
What's your favorite house party historical? Don't hold out on us! Share your comments.
Footnotes
[1] Adkins, Roy & Leslie. Jane Austen's England: Daily Life in the Georgian and Regency Periods. Penguin Books. New York, 2013. p. 80.
[2] Ibid, p. 80.
[3] Vickery, Amanda. Behind Closed Doors. At Home in Georgian England. Yale University Press. New Haven. 2009. p. 130.
[4] Poole, Daniel. What Jane Austen Ate and Charles Dickens Knew. Simon & Schuster. New York. 1993. p. 85.