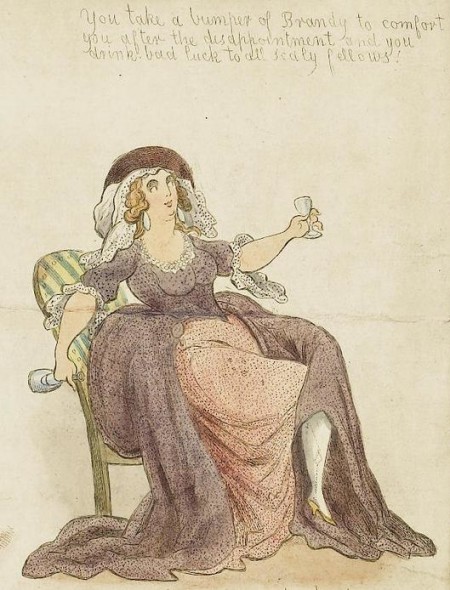 Eskimos have over 50 different words to describe snow, give or take a word here and there depending on dialect. According to David Robson in the January 2014 edition of New Scientist, ". . . languages evolve to suit the ideas and needs most crucial to the lives of their speakers."
Today, while researching an unrelated subject in Jennifer Kloester's Georgette Heyer's Regency World, I couldn't help but notice, via a very unscientific study of the glossary, that there were an awful lot of words and phrases in common usage in Regency England to describe, as Kloester politely puts it, "a woman of easy virtue."
In the interests of science (or something), I counted them. Kloester lists no fewer than 16 words to refer to mistresses, prostitutes and the basic, garden-variety "fallen woman":
barque of frailty, bird of paradise, bit of muslin, one of the muslin company, convenient, ladybird, lightskirt, trollop, doxy, an "impure", mort (could mean woman or wench, but also harlot), jade, light o' love (mistress), Haymarket ware (low-class prostitute), Incognitas (high class prostitute), chere-amie (mistress), game-pullet (young girl likely to become a prostitute).
Kloester's online glossary at georgette-heyer.com reveals 8 more: Paphians, prime article, peculiar, wanton, harlot, Cythereans (mistress), and "started in the petticoat line."
That's 24 words in total to refer to the fallen woman in Regency England (surprisingly, the word "whore" is not on the list).
This by-no-means exhaustive study reveals, then, that women of easy virtue were about half as crucial to Regency life as snow is to Eskimos. Think about how that. How much time does the average Eskimo spend in the snow?