A Season of Ruin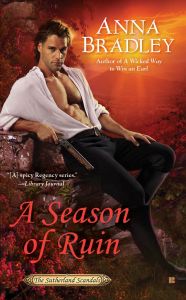 A Sutherland Scandals #2
Anna Bradley, author of A Wicked Way to Win an Earl, continues her Sutherland Scandals series with a tantalizing new Regency romance filled with opulence, elegance, and forbidden desire.
Lily Somerset's plan for the London season is simple: courtship, marriage to a respectable gentleman, then the comfortable existence of a proper Lady. That is, until one tiny misstep leaves Lily on the edge of social ruin, forcing her to depend on a wicked rogue to save her reputation.
Robyn Sutherland doesn't save reputations—he sullies them. He'd rather be drawn and quartered than find himself spending the season as Lily's escort. But he has no choice but to stay until her tattered standing is mended.
What begins as a ruse to deceive London soon flames into an uncontrollable passion. Robyn calls to the wild spirit that lurks beneath Lily's prim exterior, and Lily awakens the hero's heart within Robyn. But can these unlikely lovers trust themselves enough to let desire overrule reason?
Excerpt
He opened his eyes to find Lily looking up at him as if she dreaded what he'd say next.
"If you wanted to kiss me, Lily, you could have just asked. You needn't have gone to all this trouble."
Her mouth dropped open, then she crossed her arms over her chest. "If you wanted me to slap your face, Robyn, I would have been delighted to oblige, even without the kiss."
He grinned. "You didn't have to slap me at all, you know. I would have let you go. I only wanted to see your face before I did."
So I could find you again. And ruin you.
Alas, there would be no ruination now. He'd never find another woman in London with her taste and scent, either. Wild strawberries, a meadow on a sunny day . . .
Good God. He was going to have to move to the country.
She ran a hand over her hair to smooth the curls he'd disarranged. "Well, I didn't know that, and I didn't know it was you. I thought it far more likely to be one those conscienceless seducers London is infamous for."
"Let that be a lesson to you, then. Anything can happen when you follow a gentleman into a dark room."
"Follow? Don't be absurd. I never followed you. I hadn't any idea you were in here. I thought this was the lady's retiring room."
Robyn raised an eyebrow. "You mean to say you're perceptive enough to notice a man lying in wait by the door, but not perceptive enough to realize this isn't the ladies' retiring room?"
"I did realize it! Only it was too late to do anything about it by then."
He took a step closer. "Ah, yes. I forgot. You were all atremble by then, in fear for your virtue, certain you were in the arms of a conscienceless seducer."
She bit her bottom lip nervously. "Wasn't I?"
Robyn's gaze drifted down to her lips. "Perhaps you were."
The truth was before tonight, before he'd kissed her, he'd hardly even noticed Lily. Oh, she was beautiful, just like her sister Delia, with the same thick golden brown hair and those famously blue, blue eyes.
But Lily . . . well, she was too neat. Too proper. She was buttoned, laced, smoothed and groomed to perfection. There wasn't a stray curl to finger or a hint of ankle to admire. Any lust he might have felt for her was overwhelmed by an urge to wrinkle her gown or pull every pin from her hair, then shove it back in, upside down and backwards.
But that was before he'd discovered straight-laced, proper Lily hid the softest lips he'd ever kissed and the most tempting curves he'd ever laid a finger on under her starchy exterior. He hadn't even needed all of his fingers to tell that her breasts were . . .
Stop it! Never mind her lips or her breasts. Robyn closed his eyes for a moment. He didn't like his chances of keeping his head attached to his neck if his brother Alec ever found out about this incident.
It was quite simple, really.
Don't touch Lily.
back to Top