A Wicked Way to Win an Earl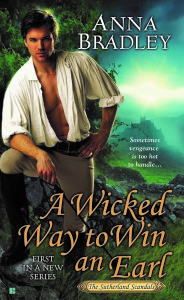 A Sutherland Scandals #1
They Whisper about Her
Delia Somerset knows the ton has tittered over her family's disgrace since her mother's spectacular scandal decades earlier. Delia's policy with aristocrats is avoid, evade, ignore—that is, until Lord Carlisle discovers she's caught his younger brother's roving eye and threatens to crush the gossip, and Delia, under his boot heel.
Rogue. Rake. Seducer.
Alec Sutherland, Lord Carlisle, ruins innocents as carelessly as picking roses in a garden, and Delia is a more tempting bloom than most since her mother was the London belle who humiliated the Sutherland family. After all, seduction is even more delicious when it's sweetened with revenge. Delia has no intention of falling into Lord Carlisle's arms, but to teach him a lesson she'll pretend she's one kiss away from surrender, right up to the moment when he tries to pluck the rose. Then he'll get a fistful of thorns. But as soon as Delia tastes Alec's fiercely passionate kisses, she fears she's no longer pretending.
Alec has ruthlessly rebuilt the Sutherland fortune, shilling by shilling and pound by pound. He hasn't dragged his family back from the edge of ruin only to see them disgraced by a connection with Delia Somerset, no matter how tempting she is. But Alec's perfect control slips further from his grasp every time he matches wits with spirited, clever Delia. She intrigues him. She maddens him. She challenges him. She's about to see an icy earl set aflame with desire.
The Wager of a Lifetime
Delia is fighting against a scandalous past. Alec is fighting for his family's future. But wicked games have dangerous consequences, and what begins as a battle over family pride soon becomes much riskier: a battle for hearts.
Reviews
Winner – 2015 Romantic Times First Historical!
"Regency-era romance feels new and bright in Bradley's delightful debut. Bradley's quick wit and humor keep the story flowing smoothly. Readers will devour this passionate romance as eagerly as Alec and Delia devour each other when their flirtations lead at last to the bedroom. Alec's siblings and Delia's sisters will surely make the Sutherland Scandals series a pleasure to follow." – Publisher's Weekly (starred review).
"Bradley's flawlessly written debut, the first in her Sutherland Scandals series will immediately win readers over with its intoxicating blend of wit, simmering sexual tension, satisfying sensuality and superb characterization." – John Charles, Booklist.
"A tart-tongued, challenging beauty and a dashing, reformed (sort of) rake who needs to get his priorities straight play a dangerous game. Full of steamy passion and sexy banter, Bradley's debut beautifully kicks off her spicy Regency series." – Library Journal.
"A delightfully delicious debut that grips readers with the very first scene and doesn't let go. With her book's battle of wills, game of seduction, rapier-sharp banter and enchanting characters, Bradley shows keen insight into the people and the era. Watch for this newcomer to become a fan favorite." 4 1/2 stars. Kathe Robin, Romantic Times.
"The winning ingredient is surely the author's voice, her clear, engaging writing, the way she seems to make everything seem so bright and intense. I'm not sure I'm describing it well. I think Ms. Bradley's writing is something that need to be experience, and not merely read about." The Romance Reviews, Top Pick, 5 stars.
"Anna Bradley starts off her new series with a bang! Everything about this novel is a delight. She has wonderful characters that struggle against their roles and who others think them to be. There is plenty of misunderstanding and romance. I can't wait to see what happens to the rest of the characters as this series continues . . . There is a lot that Ms. Bradley can do with these characters since they are all so unique. I can't wait!" – Regency Romance Writers.
Excerpt
A Wicked Way to Win an Earl – Excerpt
"Who the devil are you?"
He pinned her down with penetrating dark eyes that sported lashes long enough to satisfy even the vainest of women, and slowly crossed his arms over his chest.
"Miss?" he barked. "I asked you a question."
Yes—he had, hadn't he? Yes, of course. Who the devil was she? "Delia Somerset?" she squeaked, cringing when it emerged as a question.
A glint of lazy humor flashed in the black eyes. "Well, are you or aren't you? You don't seem to be sure."
Delia didn't trust that glint. Her married friends sometimes whispered about men like him; men who became crazed with lust and were swept away by their animal passions. All manner of wicked behavior followed. And this one looked more savage than most.
"Let's assume you are indeed Miss Somerset," he drawled when she still didn't speak. "Now that I know who the devil you are, may I suggest you tell me what the devil you're doing here?"
Why, of all the offensive, bullying . . . all at once Delia's embarrassment faded under a wave of indignation. Even an intriguingly bare chest didn't excuse profanity. "And may I suggest, sir," she snapped, "that you manage your shirt?"
One dark eyebrow shot up in acknowledgment of this show of temper. "Forgive me, Miss Somerset." He began straightening the shirt with an air of complete unconcern, as if he spent every day half-naked on a public road. He shrugged into his coat. "I didn't mean to offend your delicate sensibilities."
Delia stared at him. "It's a bit late for that, isn't it? My sensibilities were offended, sir, when you unfastened your breeches."
back to Top