Duke the Halls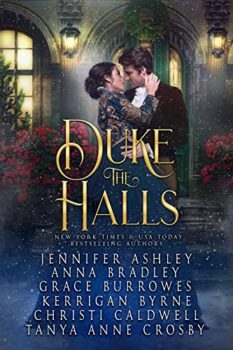 From six beloved writers—Jennifer Ashley, Anna Bradley, Grace Burrowes, Kerrigan Byrne, Christi Caldwell and Tanya Anne Crosby—come six Christmas stories that will warm up your holiday, and put a twinkle in your eyes.
Then in a Twinkling by Anna Bradley
(originally published June 2021)
An escapade, a caper, an outrageous Christmas courtship…Oliver Angel will do whatever it takes to win the heart of his chosen lady. The first time he met Dinah Bishop she turned her pistol on him, but instead of his head, Dinah's ball struck the softest part of his heart. Oliver is determined to make Dinah his own, but there's one small problem… Dinah Bishop doesn't believe in love.
Also includes:
A First-Footer for Lady Jane by Jennifer Ashley
Making Merry by Kerrigan Byrne
The Art of Kissing Beneath the Mistletoe by Tanya Anne Crosby
A Marquess for Christmas by Christi Caldwell
The Marquess of Mistletoe by Grace Burrowes
This is a limited-time, special box set. All these novellas were previously published, but never together in a box set. Enjoy!