From Rogue to Ruin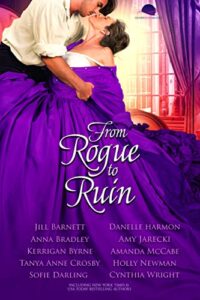 10 full length romances from 10 bestselling authors, including New York Times and USA Today bestsellers!
From the Highlands of Scotland to London's ballrooms, From Rogue to Ruin includes ten full length romances intended to introduce you to fabulous new authors and exciting new series. You'll find a swoon worthy collection of Dukes, Earls and Lords and the ladies (both wicked and otherwise) who love them. This limited time, special box set includes TEN romances from ten bestselling authors, including Jill Barnett [Bewitching], Anna Bradley [Not Just Any Earl], Kerrigan Byrne [Seducing a Stranger], Tanya Anne Crosby [Seduced by a Prince], Sofie Darling [At the Pleasure of the Marquess], Danelle Harmon [The Wild One], Amy Jarecki [The Duke's Fallen Angel], Amanda McCabe [The Earl's Second Chance], Holly Newman [A Grand Gesture] and Cynthia Wright [His Make-Believe Bride].
Please note: All the stories in this limited-time collection are previously published, but never before in one collection.