The Virgin Who Vindicated Lord Darlington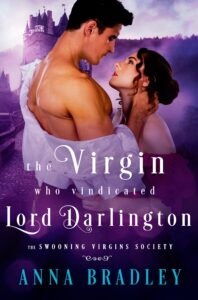 The Swooning Virgins Society Book 1
As the women of the Clifford Charity School for Wayward Girls fearlessly bring corrupt aristocrats to justice, they put their lives—and their hearts—on the line . . .
Going undercover as a governess is a first for Cecilia Gilchrist. But once she's installed in Darlington Castle, discovering whether the mysterious marquess murdered his wife proves more daunting than she imagined. Dashing widower Gideon Rhys, Marquess of Darlington, is clearly harboring secrets—but is it possible a cold-blooded killer lurks behind his devastating gaze? Trailing his every move only brings her closer to him. But if her heart misleads her, she could pay with her life . . .
He never should have let her into his world, but now that Cecilia has infiltrated his home, his senses, and his heart, Gideon will do anything to keep her safe from the darkness that has robbed him of everything. Yet keeping her close only makes it more challenging. For the more Gideon falls for Cecilia, the greater the danger to her . . .