50 Romance Novels you Can't Afford to Miss!
100 Best Romance Novels of all Time!
Sexiest Romance Novels of 2018!
Must-Read Romances of the Decade!
You've seen the lists, right? There's no shortage of readers, bloggers and romance lovers out there willing to tell us which romance novels are most worthy of our time and money. And I get it – too many amazing novels, too little time!
The fact that we're spoiled for choice is mostly a good thing, but also occasionally a frustrating thing, because we tend to see the same kind of lists over and over again, and often the same titles show up again and again on each list. Now, don't get me wrong—those titles are there for a reason. These are our most beloved stories, the books that keep us up at night and turning pages way past our bedtimes. When I read the lists, I mostly find myself nodding and thinking, "Yes, I loved that book!"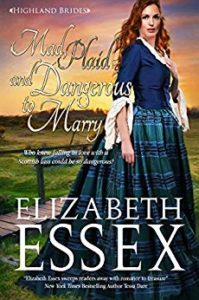 But (and you knew there was a but coming!), do you ever feel like you might be missing something? Reading is subjective, after all. Your favorite book might not make any lists, but that doesn't make it any less your favorite.
So, this week I thought we'd spread the love around. Do you have a favorite romance that you feel is deserving of a little more appreciation? A book that we might not find on a "best of" list that you don't want your fellow romance lovers to miss?
My favorite "sleeper romance" of 2018? Elizabeth Essex's Mad, Plaid and Dangerous to Marry, the fourth book in the Highland Brides series. Elizabeth's writing is wonderful, and I love her Scottish heroes!