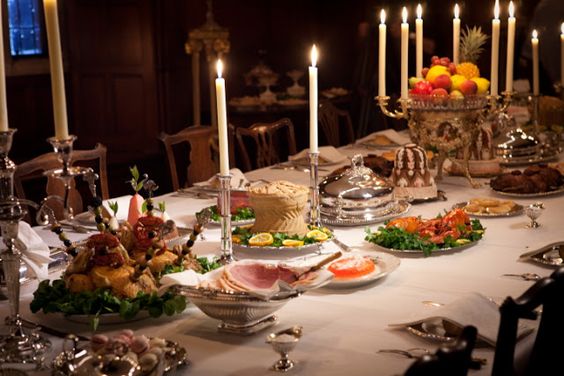 Believe it or not, the holidays are now upon us! If you're anything like me, when you think of holidays you think of festive parties and mouthwatering Christmas feasts. So, what better way to whet our holiday appetites than with a peek into Regency-era formal dining? Let's imagine you've been given an invitation to London's most exclusive dinner party. How might your evening unfold?
Upon arrival, guests are shown into the drawing-room, where your charming hostess will discreetly pair you with a dinner companion. When the servant announces dinner, you will all promenade into the dining-room in pairs, according to rank. The man of the house, Lord Fashionable will take in the highest-ranking lady, while Lady Fashionable will go in with the highest-ranking gentleman. I heartily wish you the good luck of having a handsome and entertaining gentleman seated on your left, as gentlemen were expected to devote their attention to the lady seated on their right.
You'll be ushered into a dining-room furnished in the height of elegance, with richly-colored paper on the walls to show off the gilt-framed paintings, and pier glasses to reflect the candlelight. Formal dining-rooms tended to have a decidedly masculine air, since gentlemen lingered there after the meal. After all, we can't expect his lordship to sip his port in anything less than a haven of manliness!
As for the dining experience itself, prepare for extravagance. An elegant hostess wouldn't settle for serving anything less than ten dishes in several courses for a formal dinner. You might be offered soup to start (turtle soup was popular during the Regency), then your appetites will be tempted by a staggering array of meat dishes, vegetables, often served in extravagant sauces, fruit, cheeses, pates, sandwiches, salads, creams, meringues, jellies, cakes and ices. If this dizzying assortment of delicacies seems to be too much of a good thing, rest assured guests were not expected to gobble up every dish on the table, but rather to choose from those placed closest to them. A formal Regency-era dinner was considered as much a social occasion as a meal, and an extravagant table is how Lord and Lord Fashionable display their wealth.
At the conclusion of dinner your hostess Lady Fashionable will rise, and signal to the ladies to retire to the drawing-room for tea and coffee, leaving the gentlemen to drink, smoke, squabble over politics and other the events of the day, and, in customary manly fashion, regale each other with the sort of racy jokes not proper for a lady's ears. The gentlemen might linger around the table for half an hour or so before rejoining the ladies in the drawing-room for another half-hour's conversation, at the conclusion of which your carriage will be called.
But never despair, ladies! Tis the season for feasting and dancing! Your handsome partner awaits at the most festive ball of the holiday season, and your evening has just begun.
Originally published in Victoria Magazine.